OpenTable includes Tulum Cervecería Artesanal in the Diners' Choice 2022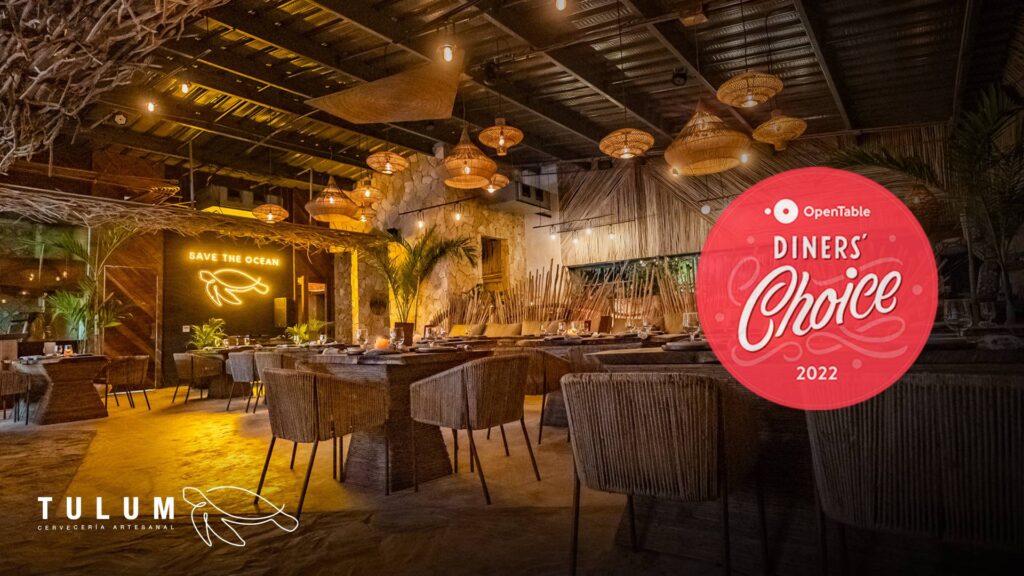 At Tulum Cervecería Artesanal we are very proud because thanks to you
OpenTable

has awarded us with the

 

Diners Choice 2022

 , badge, despite the fact that we are a young restaurant we have managed to position ourselves as the favorite restaurant among tourists in Tulum and the Mexican Caribbean, with only 9 months offering the best service and the best dishes, now we have earned the recognition that OpenTable offers to the most outstanding restaurants around the world, based on the comments they receive from their guests. Thank you very much!
This motivates us to continue providing a top quality service so that you continue to prefer us as your first choice among the restaurants in Tulum, taking care of every little detail and continue enjoying our delicious dishes.
Thanks to the reviews that our guests have shared with other foodies, we have rated 4.8 stars, and among the comments of the reviews, we have received 14 awards that highlight all our attributes. 

Some of the most important reviews of

Tulum Cervecería Artesanal

are:
-Good food, good service, excellent decoration.
-The food is exquisite, the service incredible and the atmosphere very pleasant, ideal for couples and friends.
-Excellent service, attention, and quality of food. We would return without a doubt.
-The place is very nice, the food and the drinks are very good. Super recommended.
-An excellent place to enjoy delicious food in a relaxed atmosphere, they treated us very well and has an area for more personal meetings.
-From the moment we arrived until we left, the attention was excellent. The food was just as amazing, we ordered a variety of things and everything was delicious. The icing on the cake, or rather the perfect frosting, was the tour the manager gave us.
– I went with my friends and we were delighted. The food is delicious and with generous portions, they have a Mayan show with fire and DJ every day, In addition, it is the only place where you can drink
Cerveza Tulum

directly from the factory.
If the comments of our guests have made you want to visit us, you should know that right there at OpenTable, you can make your reservation and let yourself be pampered in a fun, sophisticated environment with great food, or if you prefer to make your reservation via email reservas@tulumadvancedcuisine.com or call to the phone
+52 99 82 91 62 43
As for our delicious menu, we have a variety of dishes for all kinds of tastes: Cuts of meat, fish and seafood from sustainable fishing, vegan foods prepared with organic products harvested from our own garden and a careful selection of the best organic mixologies that will make you enjoy a quantum journey.
Do not wait any longer and visit us. We are located at kilometer 230 of the Cancun Chetumal highway and we are open from Monday to Sunday from 11AM to 1AM.